Blackjack Doubler is a ticket-purchase instant-win lottery game that simulates Blackjack. If you're an action junky who loves to play multiple hands against the dealer, you could win a grand prize of $50,000.
There are two sections at the center of the game board, each displaying the dealer's blackjack hand and the player's six corresponding hands. The bottom section displays the number of tickets, cost per ticket, total cost, and the PLAY button.
Blackjack Doubler game odds
The overall odds of winning any prize are 1 in 20.61, meaning you only win an average of one hand every twenty.
Here are examples of the current odds based on prize multipliers:
| Multiplier | Odds (one in) |
| --- | --- |
| 10x | 199.79 |
| 20x | 204.08 |
| 100x | 5,000 |
| 400x | 8,695.65 |
| 2,000x | 400,000 |
| 10,000x | 2,000,000 |
| 20,000x | 3,333,333.33 |
| 50,000x | 3,333,333.33 |
For each ticket price, there are 10,000,000 total tickets and 485,190 winning tickets. The odds listed above are adjusted with every claimed prize. The game continues to be available even after the biggest prizes have been awarded.
Blackjack Doubler bet sizes
Blackjack is a game enjoyed by both low-limit and high-roller players alike. With a minimum bet of just $0.10, Blackjack Doubler gives everyone a chance to get in on the action. However, if you're looking to let it ride and take a shot at the $50,000 grand prize, you can bet as much as $24 in a single round.
Available ticket prices are:
$0.10
$0.25
$0.50
$1.00
$2.00
How to play Blackjack Doubler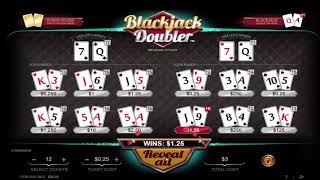 Use the +/- buttons next to SELECT TICKETS and TICKET COST to select the number of tickets and your bet size, then click PLAY.
The hands are dealt. Click on any hand to reveal two cards. Add the cards' values together to determine the hand's strength. Card values are as follows:
2-9: Number Shown
10, Jack, Queen, King: 10
Ace: 11
Double Aces: 12
You win the prize for every hand that's higher than the dealer's hand. Hands of 21 win double the prize.
You can use the REVEAL ALL button to uncover all your hands and play them against the dealer simultaneously.
Cards can be either golden or regular. Only the values of regular cards affect gameplay. However, a hand with two golden cards triggers the Blackjack Doubler Bonus Round.
How to play the Blackjack Doubler Bonus Round
Gameplay remains the same in the bonus round. You win a prize for every hand with a higher value than the dealer's hand. What changes is the prize – it's multiplied by the bonus round multiplier.
The bonus round also gives you a chance to ride those famous Blackjack hot streaks. Any winning hands are then re-dealt with an increased multiplier, and the process is repeated. The game ends when you have no winning hands.