Bigfoot Reveal is a match-three-style instant-win lottery game. Travel deep into the wild in search of the legendary Sasquatch while hunting down big cash prizes. Whenever three matching symbols are revealed on the 3 x 3 game board, you'll be filled with the wonder and thrills of discovery.
The adventure begins with four game boards displayed in the center of your screen. Each game board has nine different spaces filled with symbols and offers a unique chance to spot winning combinations.
You can savor your search by clicking on each board individually, or you can speed things up and reveal all four boards at once.
Bigfoot game odds
The odds of winning a prize are 1 in 3.73. That means you'll make contact with cash prizes in around 29.5% of your wanderings.
Here are examples of the odds of winning on each game board in a single round:
| Prize | Odds (one in) |
| --- | --- |
| $5 | 30.26 |
| $10 | 121.04 |
| $50 | 1,210 |
| $100 | 72,621 |
| $150 | 36,311 |
| $1,000 | 72,621 |
Bigfoot bet sizes
Bigfoot is an equal opportunity provider of wonder and amazement. You don't need to be rich to head out in search of legendary status. Wagers start at $.01, but if you're looking to put your name on the map with a huge sighting, the maximum wager is $5.00.
There are 12 different bets to choose from:
$0.01
$0.02
$0.04
$0.05
$0.10
$0.20
$0.40
$0.50
$1.00
$2.00
$3.00
$5.00
How to play Bigfoot Reveal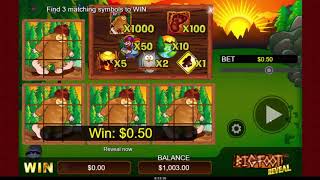 Bigfoot's layout is split into four sections. The center section contains the four 3×3 game boards we mentioned earlier. The right-hand portion displays the bet slider, spin button, and auto-play options. The upper section shows every symbol's prize multiplier. The bottom section displays your total winnings and balance.
Begin a round by placing a bet. Move the slider to the right to increase the amount. Select your bet size, then hit PLAY to embark on your adventure.
Four game boards with nine sections will appear. Click on a board to view the symbols or click the star button to reveal all four simultaneously. If three matching symbols appear on any board, you win. Each symbol represents a multiple of your bet:
1x: Bigfoot crossing
2x: Owl
5x: Fire
10x: River
50x: Hiker
100x: Footprint
1,000x: Bigfoot
Dedicated explorers can make use of the autoplay feature to launch a non-stop search. To get started, click on the gear button, then use the slider to set the number of automated rounds you want to play. You can call off the search at any time and come back to camp by hitting the STOP button.