Big Money Slingo is a bingo-style instant-win online lottery game. Its themed game boards offer you a customized experience to suit your preferences. Place a bet that matches the action you're looking for.
You win a prize every time the reel numbers match up with the number appearing on your game board. Your game card keeps track by turning the corresponding numbers into stars. Prizes are awarded when stars form full rows, columns, and diagonals.
If you're just looking to pass some time in an exciting way, you can wager for just a few quarters. But if you want to get the full experience, you can place $10 bets and go after the grand prize of $100,000.
Big Money Slingo game odds
The odds of winning a prize is 1 in 2.40. That means that, in keeping with the exciting theme of big money and big action, you will win cash over 40% of the time.
Here are the odds of winning some of the available prizes:
| Prize | Odds (one in) |
| --- | --- |
| $0.50 | 4.00 |
| $1.00 | 12.00 |
| $5.00 | 85.00 |
| $10 | 500.00 |
| $25 | 666.00 |
| $50 | 1,333 |
| $100 | 5,000 |
| $1,000 | 100,000 |
| $10,000 | 2,000,000 |
Big Money Slingo bet sizes
The minimum bet is $.50, and the maximum is $10. There are six different bet amounts:
$0.50
$1.00
$2.00
$3.00
$5.00
$10
How to play Big Money Slingo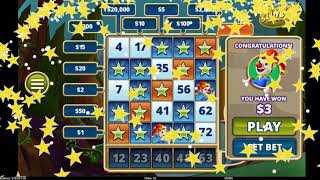 Begin a Big Money Slingo by placing a bet. A screen with six bet sizes will appear. Click on the bet you want to place to enter the game.
The game's layout is divided into three sections. There is a 5×5 game board in the center and prize amounts outside every row and column. The right-hand section features the spin button and the number of spins remaining.
Click on START GAME to spin.
The bottom reel reveals five numbers. If a number corresponds to a number in the column, a star appears. Jokers might also appear, filling in some spots automatically. These symbols are wild, have the same effect as star symbols, and can be used interchangeably to form winning combinations. On filling all the spaces in a row, column, or diagonal with stars and/or Jokers, you win its corresponding prize.
If a FREE GO ball appears, you win an additional spin. The round comes to an end when you have no more spins.