Big Eats Little is a collect-style instant-win lottery game. You win by moving your fish across the game board and collecting prizes. But watch out! Bigger guppies and sharks are lurking, waiting to turn you into their lunch. Navigate through the seaweed safely to find your way to prizes as large as $50,000.
The game board has 25 spaces. Because your pathway through the seaweed is a mystery in every round, the amount of time required to complete a round is not standardized.
Big Eats Little game odds
You have a 1 in 2.77 chance of winning a prize. That means you'll be able to find some treasure lurking in the weeds more than three out of every ten times you play.
Here are examples of the odds of scoring larger prizes:
| Prize | Odds (one in) |
| --- | --- |
| $10 | 706.25 |
| $50 | 5,650 |
| $100 | 9,417 |
| $5,000 | 353,125 |
| $10,000 | 706,250 |
| $15,000 | 706,250 |
Big Eats Little bet sizes
Even big sharks start out small. No matter how big you want to get, there is a game for you. The minimum bet is $0.10, but you can grow all the way up to the maximum of $10. You can place eight different bet amounts:
$0.10
$0.20
$0.50
$1.00
$2.00
$3.00
$5.00
$10.00
How to play Big Eats Little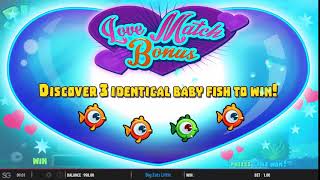 The game's layout is divided into two sections. The right section constitutes the game board, while the left section displays meters for receiving 1x, 5x, 50x, and 5000x prizes.
Begin a new round by placing a bet. Use the +/- buttons to cycle through bet sizes. After selecting your bet size, hit PLAY.
A small fish will appear in the bottom left corner. The seaweed symbols on the left of the game board glow. Use the auto-play feature or click on a seaweed manually and your fish will move to one of the glowing spaces. One of seven symbols is revealed. Your fish takes a corresponding action:
Arrow: Fish moves in that direction on the game board
Symbol: Corresponding prize meter is increased by one
Instant Win: Instant cash win
Smaller Fish: Small fish turns into medium fish, or medium fish turns into maximum size fish
Same-Size Fish: Activates Love Match Bonus mini-game
Bigger Fish: Game ends
Shark: Game ends
Each symbol represents a multiple of your bet. Collect three of the same symbols to win their corresponding prize:
1x: anchor
5x: shell
50x: star
5000x: diamond
Every boost in the size of your fish doubles the prizes you can win.
If there is no seaweed patch next to a space, your fish will move to any space with a seaweed symbol. The game ends when a space reveals a bigger fish or a shark, or when there are no more spaces with seaweed left.
How to play the Love Match Bonus Mini-Game
A space with a same-size fish activates the mini-game, which begins by displaying four fish eggs on the screen. Select each egg to reveal a fish. If at least three fish are the same color, you win the indicated prize.