Ballroom Bingo is a bingo-style instant lottery game that rewards you with prizes when the drawn balls match a winning pattern on your card. No matter how many bingo rooms you've seen in your life, you've never seen one quite like this. The gilded columns and palatial space of this bingo hall are not to be missed. And with a grand prize of $5,000, it's sure to be a hall you'll never forget.
There are 75 bingo balls in the virtual hopper. Thirty-five balls are chosen for each game. A round can be played at normal, quick, or turbo speed. Playing at turbo speed completes a round in under ten seconds.
Ballroom Bingo game odds
You have a 1 in 2.44 chance of securing any reward during a betting round. That means your lucky numbers will be called more than three out of every ten rounds you play. Those are excellent odds compared to other instant-win games.
Here are examples of the odds of winning payouts:
| Prize | Odds (one in) |
| --- | --- |
| $1 | 3.33 |
| $2 | 10 |
| $25 | 142.86 |
| $50 | 500 |
| $500 | 10,000 |
Ballroom Bingo bet sizes
The minimum bet is $0.10, and the maximum is $10. You can place eight different bet amounts:
$0.10
$0.20
$0.50
$1.00
$2.00
$3.00
$5.00
$10.00
How to play Ballroom Bingo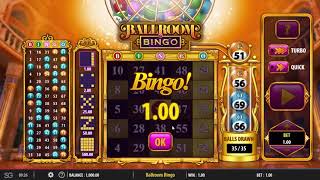 The Ballroom Bingo board is divided into five sections. There is a bingo card in the center of the screen.
The left-hand sections display all the balls in the hopper, highlight the drawn numbers, and show winning patterns. The right-hand sections display the balls as they come out of the hopper, show how many balls have been drawn, and feature the bet amount and game speed.
Start a new round by selecting your bet size. Use the +/- buttons on the bottom right corner to cycle through bet sizes. Hit PLAY after choosing your bet size to begin the round.
The hopper at the top of the screen spins, and bingo balls drop out into the BALLS DRAWN area. Each ball displays a number from 1-75 as well as a letter – B, I, N, G, or O. Each letter has a corresponding color:
B: Red
I: Green
N: Pink
G: Orange
O: Blue
Your bingo card features numbers arranged in a pattern. Numbers on your balls that match your card are highlighted. If the highlighted numbers make a pattern, you win a multiple of your bet:
1x: Line pattern
2x: Four Corners
25x: X Pattern
50x: Z Pattern
500x: Blackout
Drawn numbers in the left-hand section turn orange when they are on your card and blue when they aren't. Colors and numbers do not affect the prizes you win.